Essentials to make your shop's site a star.
Your website is one more dependable tool that helps you run your business. Just like buying and maintaining your other tools, make sure you invest the time to know what works, and doesn't, and how to use your site to better serve your customers.
Face it, customers almost always start their search for a shop when something breaks, they're in a pinch, or need something done fast. By the time they get to your site they may be stressed and impatient. So you have 3-5 seconds to convince them you're worth looking into further. Here are a few things to consider in getting your shop considered.

Be Professional
Make the site clean and simple and immediately relevant. Star bursts and wacky backgrounds are not your friend.

Make it "Scannable"
It's a sad truth but no one reads anymore. So organize the site into quickly digestible chunks for easy reading.

Use Friendly Colors
Make your site fresh and inviting. More like a physician's site than a heavy metal band. As much as we all love black.
Give them a good handshake
When you meet someone for the first time, it almost always goes something like, "Hi. I'm John Smith, owner of Smith Auto Repair. How can I help you?" It's about setting context. It's about demonstrating relevance. It's about making sure the customers understand exactly how you can help them. When customers arrive at your home page, they should immediately know what you and your shop can do to solve their problem or fill their need.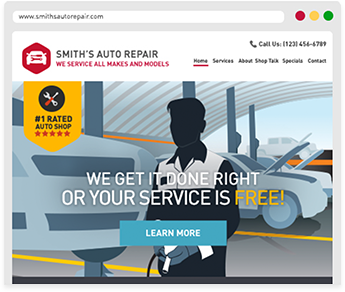 Say Who You Are and What You Do
"Smith Auto Repair. We service all makes and models ... ".
Make Your Value Proposition Clear
"We're the number 1 rated ... "
Tell Them Why They Should Care
"We get it done right or ....."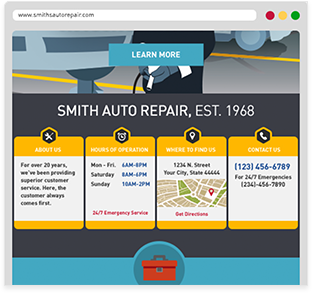 Just the facts (KISS), Ma'am
The tried-and- true KISS (Keep it Simple, Stupid) principle definitely goes a long way here. Just as you make the most essential inventory items easy to find in your shop, you want to make the important aspects of your site as simple and easy to find as possible. You'd be surprised at how many sites bury the exact things customers want first-basic contact information, location, etc.
Name
It should be the first thing customers should see, simply.
Location, Location, Location
Say where ... show where ... help them get there.
Hours
Assume that people want to make an appointment. Make it easy by telling them when you're open.
Phone Number
People are using mobile more and more and if they're looking for you on their phone, help them make the call to come see you.
Go Beyond the Expectations
Remember this: "Customers demand value but they value delight." They demand to know the basics, but they'll delight in knowing you're giving them just a little extra. Little bits of added value go a long way in establishing why you're the better choice, and the better shop. Try these out.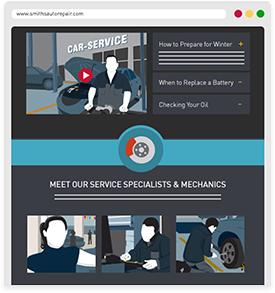 Plus Things Up
In addition to the basics, share some helpful hints, articles on car issues, even seasonal things to consider.
Tell Them What They Need to Know and More
Be honest, and tell them when they don't need service as often as when you'd recommend it. That builds trust.
Post a Video Tour of Your Facilities
Show them you have outstanding bays as well as an immaculate waiting area.
Feature Employees in Pictures and Videos
People love to know who's taking care of their beloved vehicle.
Weebly
Boasting 20 million sites with 140 million unique visitors, this site builder is a great solution when you want to get on line quickly, with almost no technical know-how. You can even use their iPad app to build your site.
Squarespace
The thing that separates Squarespace from other services is its approach to design. Websites made with Squarespace tend to be more sophisticated in look and feel. That can be a bad thing if your customer base is more coffee-and-doughnuts thans cappuccino-and-biscotti. But if projecting "premium"is what you're after, the elegant Squarespace approach is a solid way to go.
Yola
Another incredibly easy sitebuilder that puts a premium on simplicity while still including essentials like contact forms, ecommerce, etc. Plus, their one-click-away tutorials and help screens are especially helpful when you're just starting out.